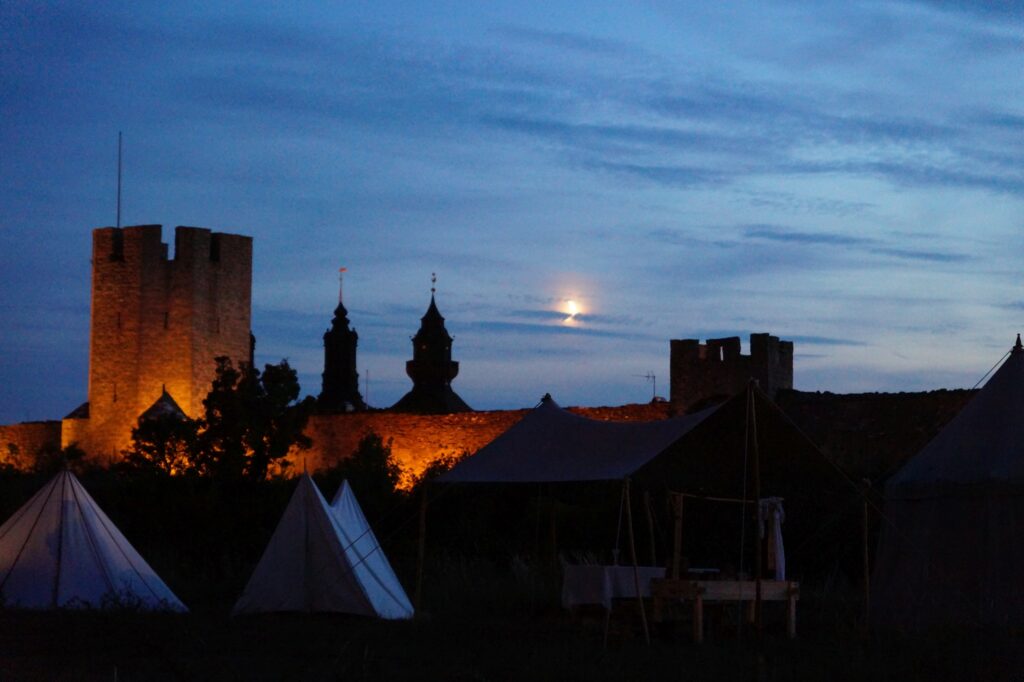 The Battle of Wisby group has a set of values that emphasize equality and human rights. When joining the Battle of Wisby project,  all participants are assumed to act in accordance with these values. Participants who act contrary to the Battle of Wisby values will be immediately refused any further  participation. Any violations of Swedish law will be reported.   
We are an including organization, where every contributor, regardless of level of participation, gender, age,  ethnicity, religious conviction, sexual orientation, disabilities or political views, should feel welcome and respected.
Meanwhile, we have strict demands regarding participants' clothing, weapons and equipment, in order to be able to create an historical environment as realistic as possible.  We expect all participants to contribute to this effort by trying their very best to adhere to the equipment standards, not least for the benefit of fellow participants.   
Participants must respect each other's cultural and religious differences. This is absolutely necessary in order for us to be able to carry out an international project with such a diverse group of participants, in a professional and efficient way.  The Battle of Wisby actively dissociates itself with racism and xenophobia, and will report any violations of Swedish law.  

Equal rights are a vital part of democracy and its values, and is rooted in the idea of basic human rights and the equal value of all. The Battle of Wisby is working to create a project where everyone is equal, and respected for their skill and knowledge, regardless of gender. The Battle of Wisby actively dissociates itself with gender discrimination, and will report any violations of Swedish law.  

The Battle of Wisby wishes to stress that everyone, regardless of sexual orientation, gender expression or transgender identity, should feel welcome within the project. If the clothing regulations pose a problem in this matter, we ask you to contact the organizers. Furthermore, we expect all participants to treat each other with mutual respect.  

Participants should care for each other, their surroundings and the environment. You are responsible, together, for the security and cleaning of the camp, and will respect personal equipment and living quarters.

Participants should care for themselves, and for others. You should be aware of security risks and strive to minimize any dangers involved in the project. We expect  those who take part in the two battles to follow the rules stated, and in addition, to refrain from all manner of violence that is not intended for display as part of the project.

The Battle of Wisby wishes to inspire, motivate and support all manner of expression within historical re-enactment. The project as such has high and strict demands concerning clothing and other equipment, and participants are expected to follow these rules, not least out of respect for their fellow participants. However, this is not intended as criticism of anybody else's goals or production within similar fields.  

Alcohol is permitted in the camp, but please drink responsibly – there are a LOT of tentlines for you to trip over. The Battle of Wisby actively dissociates itself with illegal drugs, and will report any violations of Swedish law.  
The Battle of Wisby Group