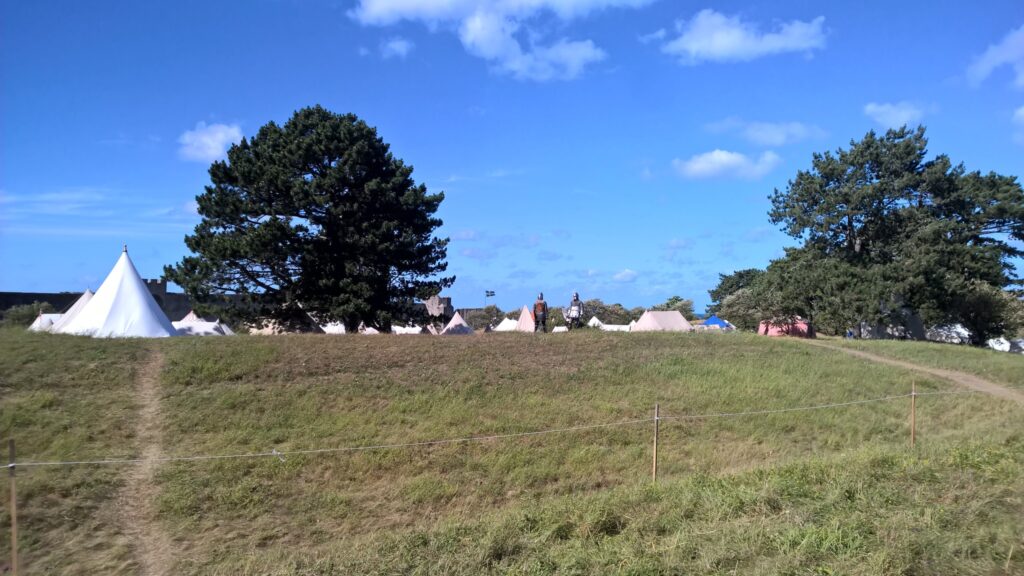 This is where you will find information about life in the camp, along with rules and guidelines for safety, as well as handy tips.
Arrival/departure
Our camp is located in Östergravar.
The closest address to the camp entrance is "Kung Magnus väg 32, Visby".

You are allowed to camp on-site from Friday the 5th to Monday the 15th of August – HOWEVER you are not allowed to light any fires until the organizers have approved your fireplace!

There will be organizers in camp from Saturday morning, 6th of August, until the evening of Sunday the 14th of August. We strongly encourage you to stay until the afternoon of Sunday 14th, since there will be camp chores associated with taking down the camp.
NO CARS are allowed in camp between 12:00 on Sunday the 7th and 08:00 on Sunday the 14th. If you want to set up your camp between these times you will have to do it in Medieval clothing and without car access.

The car park location is yet to be determined. A map link will go HERE.
Checking in
When you first arrive in camp, park on the grass near the camp entrance, and enter on foot to find one of the organizers for more detailed information about your campsite.
Once you are settled, find the check-in tent, which will be open 12:00-14:00 and 16:00-18:00 from Saturday the 6th. If your group has several participants, it is enough to send just one person to check you all in.
Checking in is vital – it helps us to keep tally of how many participants we have. This is where you get your camp badge – without it you cannot enter the camp.
Camp layout
Info about the structure of the camp, along with handy examples of different types of camp plans can be found here.
Morning meetings
Every morning the organizers will hold a short meeting. The exact time and place for this will be provided on-site.

Each group is to send ONE representative to this meeting, every day.

These meetings will give you any updates on the day's activities, fire regulations, as well as requests for volunteers for any camp chores that have been added to the roster, or are not yet taken.
Fire
Information on fire regulations can be found here.
Camp chores
Information on camp chores can be found here.
Tavern
More information to come.
Hygiene
Information on hygiene can be found here.
Provisions
Phones can be charged at the Norrbacka school.

Sleeping in the school is not permitted without approval from the organizers.

Bedding straw will be provided on the logistics area. All straw must be returned to a specified section of the logistics area upon leaving.

Firewood will be provided. Please don't take more than needed for a day or two. All excess firewood must be carried back to the logistics area upon leaving.

The closest supermarket is COOP Östercentrum, about 400 m from camp. Östercentrum has general stores, restaurants and McDonalds.

Systembolaget, Sweden's government-run alcohol monopoly is also located at Östercentrum. You must be 20 years of age to buy alcohol in Sweden – you may be required to provide ID.